THE MINUS TRILOGY
by Tim Sellears

"This was no place for a series of studied moves. The angle was such that arm-strength was a limiting factor. It was equally no place for a wild flailing of picks - the belay was obviously non-existent and the penalty clause for careless climbing was much too severe." 1.

When I first applied to become a member of the Oread my climbing experience was described by the then president as preposterous, "How can anyone lead Scottish grade III and second V,6 but only Moderate climbs on rock ?" Looking back I can appreciate it was an unusual route into the climbing world, I think basically I enjoyed the suffering!

In recent years European ice climbing conditions have been somewhat variable, however there's nothing like a trip to the continent as preparation for the forthcoming Scottish season. It's not just the physical aspect of reacquainting yourself with winter equipment and movement, for me it helps build the positive mental reserve so often required during Scottish winter routes. They also amplify enthusiasm, so it wasn't surprising that no sooner had we returned from Austria that Neil McAllister from Lincoln Mountaineering Club suggested a trip to the CIC hut.

Venturing north in winter always seems to be about timing as it requires conditions, weather and work all to be aligned. As it turned out only Neil and myself could take advantage of the two midweek nights (19th & 20th March) at the CIC hut supported by additional nights at the FRCC hut in Kinlochleven. A couple of hours after arriving at Waters Cottage our plans were thrown into question when Neil received two emails; "all FRCC huts are closed with immediate effect" and "the CIC hut will close on Sunday". We discuss the growing Coronavirus situation at length and concluded that it was reasonable to continue with our plans since the country wasn't yet in lock-down.

Armed with our reserved key for the forestry track we set off for the Ben Nevis Ski Centre and the drive up to the dam, first thing though was to pick up the CIC hut key from the Calluna Bunkhouse in Fort William. Victoria greeted us with a smile and we exchanged pleasantries about social distancing and staying safe, she said her elderly father Alan (Kimber) was doing his best to self-isolate, a big ask for a man - who although now retired - had spent decades guiding on Ben Nevis.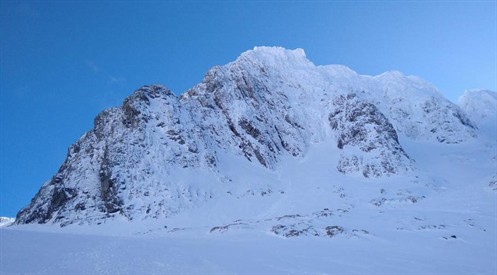 Agreeable conditions on the North East Buttress
(The Minus face is approximately the second quarter from the left)

Minus 2 Gully V,5 **** "More haste less speed"

Having dropped our heavy packs off at the CIC hut it felt great to be heading out onto the Ben, even the thought of leading my first Grade V didn't seem to trouble me. Neil's experience shines through when I realise too late that I've broken trail all the way to the base of the crag !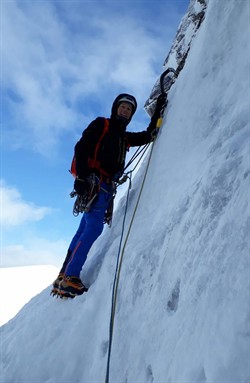 I scan the route description and eagerly head up the first pitch of ice clipping a midway peg to reach the overhang, which I remember should be turned on the left. After 15 minutes searching for a runner and numerous attempts to find a solid axe or crampon placement I down climb to the peg dejected "sorry mate I'm just not up to it" ... "it doesn't look too great, hang on a minute" comes the reply as Neil digs out the guidebook ... "avoid the overhang by traversing left" ... which it turns out is much more amenable ! This puts me in the main gully which I climb enthusiastically, placing a couple of screws and clipping another peg, before entering a narrow runnel with the next belay visible above. Halfway up this the rope unexpectedly goes tight, I look around to discover the weather has closed in and no doubt robbed us of verbal communication.

I start to kick a small ledge to create the belay stance when a gigantic crack sound detonates high above. Realising there's no time to place a screw I adjust my position and brace, the growing rumble a tell-tale sign of what's coming. Within seconds of the spindrift hitting me the void between my body and the face is filled and I become buried as it continuously pours over my head. I recall Natalie's parting comment before I left "don't die and you'd better come back". As it starts to subside I realise that my closed eyes feel frozen, I open them to a wall of white and carefully wriggle to loosen the plug of snow in front of me.

I bring Neil up and he leads through to belay below the steep ice pitch, which I opt to climb direct rather than avoid on the left as suggested in the guidebook. As I set off a couple of ropes appear from above belonging to two lads from Harrogate Mountaineering Club. They were none the wiser on the cause of the blast but were glad to be near the top of the route when it happened ! (Discussions in the hut later concluded that the most likely cause was a lightning strike near the summit)

Neil leads the final narrowing chimney to the left and we reach the summit just as it goes dark. With this in mind we decide to abseil the route using the in-situ peg belays spaced for 60m ropes. Above the now dark mass of the north face was a clear sky packed with thousands of stars illuminating our way back to the hut. On arrival we were greeting by one of the lads we'd met abseiling the route "do you two fancy chilli and rice, we've made far too much ?" ... could life get any better ?

Minus 1 Gully VI,6 **** "Keep calm and carry on"

Encouraged by our previous day we opt to "go large" with our route choice, especially as the guidebook suggests "not often in condition". I obviously learnt something yesterday as, although I'm again in front of Neil, I'm behind the lads from Harrogate who are heading for Minus 2 Gully!

As we gear up it becomes clear we're already halfway up the first pitch and the peg we've clipped to is a runner not the belay. Neil heads off with the crux in view and in no time at all advises "it's looking a bit thin, though there are a couple of pegs and some tat". A flurry of ice ricochets down and I bow my head to avoid being hit in the face, as I start to look back up I'm suddenly pulled forward as Neil parts company with the left wall. The in-situ gear holds and after a quick check all his limbs are still working he's back on it and through. When I meet him at the belay I notice there's a nice axe pick shaped hole in the middle of his new helmet !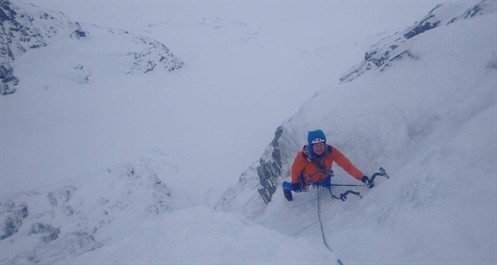 Neil nearing the top of the Pitch 2 on Minus 1 Gully

Next is the steep ice pitch which is a fantastic lead with good ice and great placements all round. Keen to avoid the tight rope situation of yesterday I belay at the top of this as the angle eases off, I've also spotted a peg in the next runnel which will make a good first clip for Neil. He arrives with a big grin on his face "wow what a brilliant pitch" ... I'm now not so happy having seen him drop one of my screamer quickdraws!

Arriving at "the meadow" I find Neil at a comfortable belay stance soaking in the magnificent surroundings. It's a snow bay with a mixed ramp that the guidebook suggests leads to a choice of grooves above. I head off and place the all-important first runner, unfortunately the ice screw goes in about 50mm and hits rock. After a couple more failed attempts I move to the bay left wall in a bid to find a rock runner. No joy either so I return to the centre and take a couple of tentative steps up the iced rock, my axe and crampon placements feel secure A few more steps and I try again for a screw placement, the same thing happens but I decide to leave it in, this is repeated until I reach the top of the ramp. I look down and wonder why I've left three useless screws in as runners.

My options are now a steep 20m snow corner above or a smooth powder covered rock traverse to the right. I dig around for a rock runner and am strangely calm when one doesn't appear. My axe and crampon placements still feel positive so I head up the corner convinced I'll find a runner on the left rock wall. I don't and at the top of the corner it seems I'm virtually out of protection options when what looked like a bulge of ice from below turns out to be 50mm thick. Kicking a small ledge to give myself a rest I contemplate the predicament; yesterday's comment to Neil enters my thoughts "sorry mate I'm just not up to it". Looking down the corner it dawns on me that in reality I've just soloed the last 35m and after all it is VI,6 ... obviously I am up to it ! The solution becomes clear. I'm in a stable position with two good axe placements so I'll belay off these and get Neil to traverse just below me into the right gully. He does this and after a few delicate steps on thin ice manages to get into an icy groove that will take most of a stubby screw, Neil too is clearly up to it ! (This was a breakthrough pitch for me and I couldn't agree more when someone commented later that "you'll have left a piece of your soul on that route")

A couple of rope lengths later we were at the foot of the final pitch, a snow bay fringed by a wall of rock defining the crest of North East Buttress. The snow was deep and unconsolidated; I had to search diligently to find some runner placements beneath the snow plastered rock. Some small wires were eventually teased into shallow cracks and provided reassurance before topping out on this much prized route.

"As I mantle-shelfed carefully onto the rickety arête, we knew we had snatched one of the glittering prizes" 1.

The broader shoulder of North East Buttress is a short powder covered rocky arête away but would be time-consuming in these conditions. I look across and spot the tat at the top of Minus 2 Gully and Neil correctly surmises that we can simply abseil directly down from our stance into the gully below it; a sling was draped around a blunt pinnacle and we start our descent under fading light.

We're not quite so lucky on the food front when we get back to the hut so opt for a big bag of crisps with mature cheese and biscuits accompanied by a large single malt ... life really couldn't get any better !

Minus 3 Gully IV,5 ** "Respect your elders"

All thoughts of heading to the Orion face, with just about everyone else in the hut, is soon banished at 6.00 the next morning. Neil thinks it might be the Bowmore 12yr we celebrated with last night, but in truth yesterday's route had taken it's toll. To be honest I preferred our backup plan; though mainly because it gave another couple of hours in bed. As we were finishing our last cup of tea the door opens and in walk a couple of old timers; exchanging pleasantries it turns out they too are going for Minus 3 Gully.

Walking to the start of the route Neil asks if I know who one of them is, I don't but apparently it's Alan Kimber. I solo up the first pitch to the cave and belay Neil who leads through up the crux ice pillar. At the top of the next pitch I catch up with the party in front so dig around on the right wall and managed to find a couple of decent runners. Neil cruises up and through heading for the crest of North East Buttress, we both agree this to be an excellent choice today.

Five minutes later Alan arrives and starts scratching around next to me "bloody Ben Nevis rock, it's all so compact". He declines my offer to clip in and we discuss climbing and the current situation, "we picked this route to be well within our limits, mind you at 74 I guess I shouldn't really be out ... you can see my house from this stance". He looks in great shape and I am truly in awe of his passion for the outdoors, I could have stayed chatting all day but I hear Neil shout "Safe". At the crest we consider our options and decided to abseil 60m towards the top of Slingsby's Chimney II * where we can see another hefty abseil sling in place.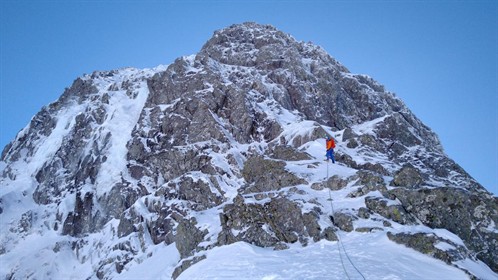 Neil abseiling towards the top of Slingsby's Chimney

Walking back down to the CIC hut we knew that during the narrowest window of opportunity we had achieved a great deal.

We shared one last brew with others recently off the hill, everyone had found good ice/neve conditions high up, with the Orion Face receiving a lot of attention. Rucksacks were packed, burgeoning bin bags were grabbed and we said a hearty farewell to our fellow climbers. Stepping outside I turned to peer back up at the mountain, it looked absolutely marvelous in all its winter glory, we had been blessed.

Back at the FRCC hut it became obvious that the world was now a different place!

We managed to get to the pub in Kinlochleven just in time to eat, amazed at how busy it was, we then heard that this was the last night before all pubs, bars, restaurants etc would be closed to help curb the spread of the virus. We made good use of the bar facilities before retiring to our beds. A quick trip to the local Co-op in the morning to deal with shopping lists submitted by our wives and we were soon on our way south.

Driving up Glen Coe and across Rannoch Moor I was amazed to see so many motorhomes and campervans parked up in lay-byes and by the side of the road plus many more coming towards us. The plea for social distancing had not quite had the effect required as this mass exodus from Glasgow showed - a day later a national lock-down was declared.

Since the trip I've spent quite a bit of time wondering how I managed to raise my game and why now? Was it the years spent winter walking learning to survive the Scottish weather; the recent European ice climbing trips that have improved my technique; finding a great climbing partner in Neil; being physically in better shape or maybe some encouragement and wise words from a friendly ginger Viking (aka Jeff Ingman)? I didn't come up with an answer but without doubt I was more prepared for the challenge than ever before.

1. Words by Ken Crocket describing the 1st accent of Minus 1 Gully in 1974 - extract from Cold Climbs published 1983.